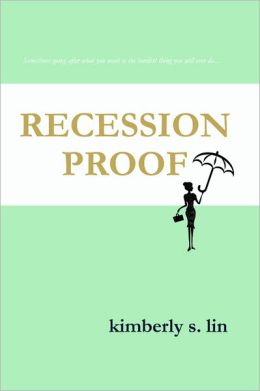 Summary: From BN.com: Sometimes going after what you want is the hardest thing you will ever do...
Meet Helen. Smart, successful and obliviously trapped. For the past six years, Helen has given her life and her heart to her cushy corporate finance job and to Mark without question. However as the Recession sweeps the Nation, she is one of many left unemployed and with the burning question of what does she really want in life.
RECESSION PROOF is a debut novel for anyone that has settled in their career and relationship but has discovered that what really matters in life is living it...
What I Liked:

I really liked the idea behind the story.

Leave behind what makes you miserable and go for what makes you happy.
What I Didn't Like:

I didn't like the author's particular angle of the story.

Also, she writes like she speaks, so there is a lot of "anyways".

FYI, anyways is not a word.

I think that better editing could have made this book a lot better.
Overall Thoughts:

Cute story, but getting past the writing is very difficult for me.
Recommended?:

Maybe, as long as you are not a grammar stickler.