Name of Book:
Pride and Prejudice
Author:

Jane Austen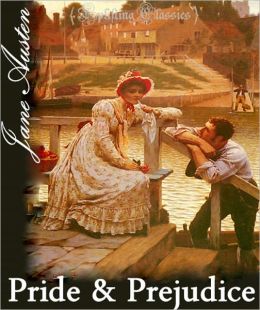 Summary:

From BN.com:
"It is a truth universally acknowledged, that a single man in possession of a good fortune, must be in want of a wife." So begins Pride and Prejudice, Jane Austen's classic novel of manners and mores in early nineteenth century England. As the Bennets prepare their five grown daughters to enter into society, each shows personality traits that illuminate their future prospects as wives. Jane, the oldest, is the most demure and traditional, and Lydia, the youngest, the most headstrong and impulsive. Attention centers on haughty second-born Elizabeth, and her blossoming relationship with the dashing but aloof Fitzwilliam Darcy. Adversaries at first in the endless rounds of balls, parties, and social gatherings, they soon develop a grudging respect for one another that blossoms into romance when each comes to appreciate the tender feelings that course beneath the veneer of their propriety and reserve.

First published in 1813, Pride and Prejudice is one of the most popular tales of romance in the English language and a cornerstone of Jane Austen's reputation as one of the greatest novelists of all time. This exquisite collectible edition features an elegant bonded-leather binding, a satin-ribbon bookmark, distinctive stained edging, and decorative marbled endpapers. It's the perfect gift for book-lovers and an artful addition to any home library.

At the turn of eighteenth-century England, spirited Elizabeth Bennet copes with the suit of the snobbish Mr. Darcy while trying to sort out the romantic entanglements of two of her sisters, sweet and beautiful Jane and scatterbrained Lydia.
What I Liked:

I loved the story and I especially liked how the two main characters bickered.

It's actually quite relatable, even given the time period it was written in.
What I Didn't Like:

Collins is an arrogant ass.
Overall Thoughts:

I can't believe I was ever intimidated by this book.

I loved it so much.

It was kind, funny, smart, interesting, everything!
Recommended?:

Yes, every woman should read this book.