Name of Book:
From Notting Hill with Love Actually
Author:

Ali McNamara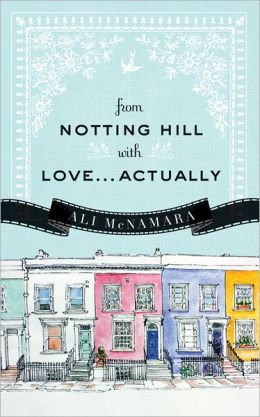 Summary:

From BN.com:

Movie fanatic Scarlett O'Brien dreams of a life as glamorous and romantic as all the big screen flicks she worships. When a chance house-sitting job in iconic Notting Hill comes along, she knows living in one of her favorite movie settings is an opportunity too good to pass up.
Leaving behind her skeptical friends, family, and fiancé, Scarlett heads to London and finds herself thrust into the lead role of her very own romantic comedy. But can real life ever be just like the movies? Larger-than-life new friends, a handsome but irksome new neighbor, and a mystery from her past may prove to Scarlett that living her life like a RomCom is more complicated than she thought!
What I Liked:

I love movies so much and I am thrilled with the story that incorporates movies into real life.
What I Didn't Like:

Her friends aren't very supportive.

Even if you don't agree with your friends ideas, you could at least support them if they are really important to your friend.
Overall Thoughts:

This was such a cute book.

It's a fast, easy read and something fun.
Final Rating:

Silver Star
Recommended?:

Yes, especially if you like movies and books as much as I do.