Name of Book:
The Go-To Girl
Author:

Louise Bagshawe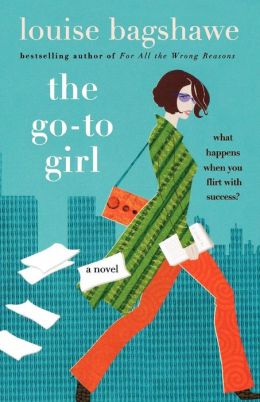 Summary:

From BN.com:

Gorgeous goddesses seem to surround lowly script-reader Anna Brown—from her deranged, glamour-queen boss to her perfect, pouting roommates. For Anna, being less-than-beautiful is hard to bear. With a dead-end job and a dead-beat boyfriend, she wonders if she can ever be a success. In beauty-crazed London, perhaps being talented just isn't enough. Enter Mark Swan, Britain's hottest director. Rugged, reclusive and powerful, everybody wants a piece of him—from studio heads to supermodels. He could be Anna's ticket to the top, but how can she ever hope to snag such a big star? Fed up with being dowdy and downbeat, Anna decides to chase her dreams, and with a little help from her friends, embarks on a madcap scheme to get what she's after.
What I Liked:

It's a great story about a girl overcoming obstacles to fulfill a dream.

She also gets to tell her "friends" just what she thinks.
What I Didn't Like:

I kind of wish that the antagonists got a little more of the comeuppance.

I felt they deserved a little move, but mainly because I was routing for the main character so much.
Overall Thoughts:

It's a very easy read and a fun story to follow.

I enjoyed it enough to keep it on my shelf.

I may revisit it later.
Final Rating:

Silver Star
Recommend?:

If you are looking for a fun chick lit read, grab this one.